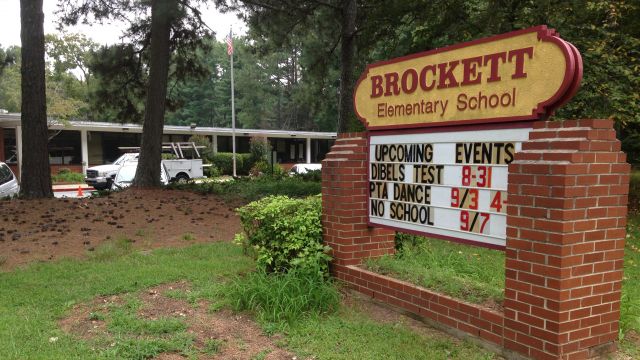 Above, Sept. 3, repair crews were working to return air conditioning to classrooms at Brockett.
Posted: Sep 03, 2015
By Adam Murphy
TUCKER, GA (CBS46) - The school year got off to a sweltering start for students in one school district. Buses rolled out of Brockett Elementary in DeKalb County Thursday after a long, hot day of school. Cheryl Miller said many students have been without air conditioning in their classrooms for several days.
"This could have been avoided, it should have been avoided," Miller said. "I think what started out as a small avoidable problem has now just blossomed into chaos." According to parents, the A/C hasn't worked in the building all year. It's one of many issues at Brockett that prompted Miller to send her only child to private school.
"Something like this where the A/C has now completely gone out, I think in five or six classrooms, could have not only been predicted, but it could have been avoided if we would have stuck to the SPLOST schedule," Miller said.
Records show the school was slated for a new HVAC upgrade in August of last year, to be funded by a special local option sales tax. However a school spokesperson said they won't actually install the new HVAC system until January of next year, nearly a year and a half later.
"From the parents that I've talked to said there were as many as 10 kids that have gone home sick because of the temperatures," Miller said. School leaders refute that claim, but did admit some students went to the nurses' office because of the heat. That said, maintenance workers plan to replace the cooling unit compressors over the weekend and restore the air conditioning by next week.
"If we've got kids that need to be taking tests and paying attention in school and doing their best it's not an environment conducive to learning," Miller said.
Brockett Elementary is due for about $1 million in upgrades. In the meantime, school officials have placed fans in many of the hot rooms until they can complete repairs.
Copyright 2015 WGCL-TV (Meredith Corporation). All rights reserved.